(1 Apr) Fever Pitch (2005, Peter & Bobby Farrelly)
[ review ]
51
(25 Mar - 2 Apr) 24 (2001)
[ review ]
92
(2 Apr) Batman: New Times (2005, William Vaughan & Jeff Scheetz)
75
[ On New Year's Eve, Batman (the voice of Adam West!!!) has to stop the Joker (Mark "Luke Skywalker" Hamill!!) and Catwoman (
According to Jim
's Courtney Thorne-Smith!) from commiting the biggest stick-up in history! How could this be any cooler? How about the whole thing being made of computer-generated Legos? If "Batman: Begins" is as fun as this, I'll be as happy as a little boy.
Watch it now!
]
(3 Apr) Alias 4.12 (2005)
[ review ]
63
(3 Apr) Hollywood Ending (2002, Woody Allen)
37
[ Part of the
Directors Series
]
(6 Apr) Melinda and Melinda (2005, Woody Allen)
[ review ]
93
(6 Apr) Frank Miller's Sin City (2005, Robert Rodriguez)
[ review ]
92
(7 Apr) Podium (2005, Yann Moix)
49
[ Not unlike our own "Elvis Gratton" (minus the politics), "Podium" follows an ignorant macho pig who likes to wear glittery jumpsuits and pretend he's a dead rock icon. But instead of Elvis, the impersonated star here is Claude François. Benoît Poelvoorde doesn't even look like Cloclo, but his singing and dancing are not bad at all. With Jean-Paul Rouve as a Michel Polnareff look-alike (!) and Julie Depardieu as his long-suffering wife, Poelvoorde holds together this amusing if a little too broad comedy. As irreverent as it can be, though, this is an ultimately sincere homage to the late singer. ]
(8 Apr) millions (2005, Danny Boyle)
[ review ]
64
(9 Apr) Spider-Man 2 (2004, Sam Raimi)
[ review ]
88
(10 Apr) Alias 4.13 (2005)
[ review ]
83
(10 Apr) Kal Ho Naa Ho (2003, Nikhil Advani)
75
[ Part of
Michael Dequina's Bollywood Starter-Kit
]
(11 Apr) Le Survenant (2005, Érik Canuel)
22
[ What is with the re-imagined folk tales set in the French Canadian countryside these days? Between 2002's "Séraphin" and the upcoming "Aurore", here's another remake of a story popularised more than fifty years ago. After being adapted for radio then on TV in the 1950s, Germaine Guèvremont's novel is now getting the fancy big screen treatment. "Le Survenant" is about how a mysterious red-haired stranger (Jean-Nicolas Verreault) disturbs the routine life of a small rural community. Old man Didace Beauchemin (Gilles Renaud, all bushy mustache and sideburns) offers him food and shelter in return for help around the farm, which strongly displeases his son Amable (François Chénier) and his dorky wife Alphonsine (Catherine Trudeau). Most of the neighbours are also suspicious of this traveller known only as "le Survenant", but for one Angélina Desmarais. Men either mock her infirmity (she walks with a limp, whenever actress Anick Lemay remembers to) or only hanker after her father's land, but Survenant sincerely cares for her. It's an impossible romance, though, because his true love remains the open road... This is a thin story, but somehow it's stretched into 133 minutes of wood-chopping, canoe rides and macho posturing. I thought Verreault was great as the big dumb loaf in "La loi du cochon" (Érik Canuel's infinitely more distinctive first film), but it turns out that's all he can play. Here he's supposed to be a charismatic, lyrical soul, but he still comes off as a boorish idiot. His lack of charm and Lemay's underwritten character make the sentimental scenes particularly dull. During the confrontations with the habitants at least, the hampered dialogue and scenery-chewing performances are entertainingly laughable. Who knows, this might be intentional, like those commercials spoofing terroir clichés – hey, Bell actually co-produced the film. ]
(13 Apr) Orgazmo (1998, Trey Parker)
[ review ]
76
(14 Apr) First Blood (1982, Ted Kotcheff)
[ review ]
70
(16 Apr) Rambo: First Blood part II (1985, George P. Cosmatos)
[ review ]
73
(17 Apr) Alias 4.14 (2005)
[ review ]
71
(17 Apr) Double Indemnity (1944, Billy Wilder)
94
[ Part of the
AFI list
(#38) ]
(18 Apr) Exils (2005, Tony Gatlif)
9
[ "Qu'est-ce que tu veux aller foutre en Algérie?" ("What the fuck do you wanna go to Algeria for?") one character asks another early into "Exils". After sitting through it, I'd like to ask filmmaker Tony Gatlif the same question. I can respect his desire to return to the country of his childhood after 43 years in exile, but did he have to transpose this into an endlessly dull and pretentious road movie? Romain Duris and Lubna Azabal are instantly unappealing as lovers who spontaneously go on a journey from Paris to Alger, mostly by foot or illegally riding on trains and boats. There's no story to speak of, but plenty of self-serving aren't-I-clever mise en scène, uninspired Godardisms, artsy nudity, random bursts of pseudo-profound dialogue and loud but generally awful music, culminating in a ten-minute epileptic dance number*. Seriously amigo, you took us all the way to Algeria for this? ]
*
Yes, I know it's supposed to be "a Sufi rite where they dance themselves into a trance". I still don't care.
(21 Apr) 10e CHAMBRE instants d'audiences (2005, Raymond Depardon)
70
[ Ten years after "Délits flagrants", photojournalist turned documentary filmmaker Raymond Depardon once again turns his camera towards the French judicial system. From May to July 2003, Depardon was exceptionally allowed to film sessions in the 10th Correctional Chamber of Paris. Having watched my share of "Judge Judy" on American TV, this didn't strike me as anything particularly special at first. It's interesting to watch how a courtroom really works and it's initially amusing to see people try to weasel out of accusations and have the judge snap right back at them. Some defendants don't seem to understand the law and incriminate themselves, others tell sob stories or make up weak excuses, then there are those who appear to be honest and forward but still can't get a break. This is where the film becomes more than the sum of its parts. Depardon has carefully edited his film to build tension and make a consistent reflection out of unrelated affairs. After going through a few relatively minor drunk-driving cases, we move on to more serious infractions, the pace quickens and the accused become more pathetic than amusing. It's impossible not to notice that race plays a role here. Not that everyone portrayed here is innocent, but their background, where they live and the way the police perceives them can play against them. Even if you're guilty, you should be treated with respect by cops and attorneys. Sentences can seem random and unfair, at least when you hear them out of context and juxtaposed to one another (should a small-time pot dealer be punished more harshly than a coward who harasses and threatens his ex?). Justice is an ugly but telling mirror of society, and "10e CHAMBRE instants d'audiences" conveys this effectively. ]
(21 Apr) Rambo III (1988, Richard MacDonald)
[ review ]
66
(22 Apr) The Interpreter (2005, Sydney Pollack)
[ review ]
52
(23 Apr) MASSAÏ – Les guerriers de la pluie (2005, Pascal Plisson)
[ In our corner of the world, rain is a nuisance. It's quite different when you're facing drought and you have to send young warriors away to find and bring back a mythical lion's mane and, according to legend, rain along with it. Pascal Plisson' film, which opened the last Journées du cinema africain et créole, is most notable for its engaging visuals, all in the yellow and reddish tones of the sun-baked Kenyan plains. The use of non-actors and real locations gives it an immediate, documentary-like feel, but it suffers somewhat from heavy-handed narration that leaves little place to the imagination. ]
(23 Apr) Unforgiven (1992, Clint Eastwood)
[ review ]
93
(24 Apr) Alias 4.15 (2005)
[ review ]
70
(24 Apr) Memoria del saqueo (2005, Fernando Solanas)
84
[ This documentary attempts to explain why the once prosperous country of Argentina basically went bankrupt a few years ago, inspiring people to take to the streets and overthrow the government. It's infuriating to see corrupted officials and private businesses get richer at the expense of their countrymen, who are forced into poverty. Fernando Solanas has been a successful filmmaker for decades and, from 1993 to 1997, he held a seat in the parliament and strongly criticized the state of things. This film is a continuation of his political work, breathlessly exposing everything that went wrong in Argentina and the individuals responsible for it. Incendiary stuff. ]
(25 Apr) Ils se marièrent et eurent beaucoup d'enfants (2005, Yvan Attal)
41
[ Yvan Attal's second film as a writer-director has him once more starring opposite Charlotte Gainsbourg, his real-life wife. Let's hope these movies are not too autobiographical, because Attal's husband characters can be real bastards. In this case, the guy's got a lovely wife and a cute kid, but he still has to have a mistress. His wife knows, but she doesn't do anything about it because she loooooves him. Wow, is this supposed to be a sophisticated apology of adultery? The movie's got a good cast (including Alain Chabat and Emmanuelle Seigner, amusing as another married couple) and a few enjoyably whimsical scenes (notably the cameo by a certain Hollywood star who lives in France), but overall it's rather slight. I mean, enough with the musical breaks - we get it, Yvan, you like Radiohead! ]
(26 Apr) Jiminy Glick in Lalawood (2005, Vadim Jean)
[ review ]
36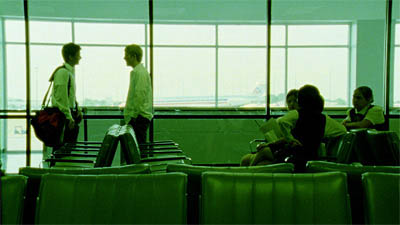 (26 Apr) Primer (2004, Shane Carruth)
85
[ Either I'm dumb or all the technical jargon in this film is thick as a brick. One way or another, I still responded to the garage-made science-fiction and pretzel storytelling. Shane Carruth's film is damn well crafted, especially knowing that it cost only $7000 – I guess it always help to go the Rodriguez route and multitask as writer, director, production designer, score composer, editor, etc. I can tell you "Primer" is some kind of genius, but don't ask me to explain it to you! ]
(28 Apr) 538 x la vie (2005, Céline Baril)
62
[ These kids would have tons of reasons to ditch school: raising kids of their own, coping with a parent's suicide, having prostitutes working on your street corner and a crackhouse upstairs from from your family's apartment... Still, day after day most of these teenagers show up at Pierre-Dupuy, a public school in one of Montreal's poorest neighbourhoods. They're not always disciplined, articulate or motivated, but they can be surprisingly lucid and sensitive. Céline Baril spent a whole year watching and interviewing these disadvantaged students and their overworked teachers, and the result is a critical yet not defeatist portrait of our education system. ]
(29 Apr) The Hitchiker's Guide to the Galaxy (2005, Garth Jennings)
[ review ]
37
March
/
May